ONE-OF-A-KIND "PATRIOT FISHING LURE" SALES ALSO HELP SUPPORT WOUNDED WARRIOR PROJECT
Attention all anglers, sports fishermen and those of us who only throw a line in the water once in a while, for fun. In celebration of America, the United States military and all things patriotic, former Viet Nam US Army gunner Ronnie Gotzon has an offering which is both unique, effective and a win-win for all. Back during Desert Storm, Gotzon (who worked for AT & T- Lucent Technologies at the time) invented a new spinner bait, from precision molds in his home machine shop. Ronnie developed four different types of Patriot Lures where the propeller spins with a spinning missile spring.
The new lure was a spinner bait that looked like a Patriot Missile. Scud busters
were made from lead, painted red, white and blue Their propellers, body and back spinner spun with paint that did not peel. Ronnie Gotzon now builds these "Scud busters" in many colors, along with his patriotic one. All of this, from a former Patriot missile gunner, is done to honor and support the troops. Each of these "Scudbuster" lures are both collectible and practical and were sold for only $5. They are most likely worth a lot more today, having ben dated and signed by Gotzon as authentication.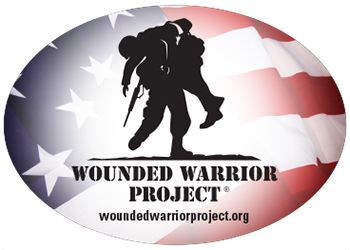 The Write Stuff,
a supporter of both the United States military and the Wounded Warrior Project local fundraisers, recommends these fishing lures to all fans of fishing and others who desire to win fishing tournaments. These lures are made by a man, Gotzon who was said he "was born to serve God and be as good as can be citizen as any (US Military) serviceman could be. It is up to the 'Man Upstairs' (God) Who leads and guides us. I was gifted to invent things. The only difference between me and any other individual is I go after my ideas". As a Veteran himself and support of the Project, Gotzon also says " we donate 10% (to Wounded Warrior) from our USA Patriot Spinner, our newest and neatest lure (as well as the Scudbuster). Every serviceman and woman would love one if they saw it.
Wounded Warrior Project (WWP) is the Jacksonville, Florida-based which is
ingrained in the consciousness of patriotic Americans to support our wounded servicemen and women, not just in emotional and physical needs, but in being able to cope with everyday life. They address everything from Combat Stress and Physical Health of veterans of the recent wars to Education and job training. By 2017, over 100,000 veterans will have been served physically, emotionally and economically.
PLEASE NOTE: Ronnie Gotzon indicates that he does not pour lead into any products even though he still has four molds for the Scudbuster (which did contain lead). He only makes the spinners now which contain absolutely no lead. Also all his fishing lures are tested and "if I don't catch at least four or five fish on my lure, I don't offer it to the public."
"One of the biggest questions I get is this – 'if I had $20 to spend which lures do I personally use? I have four or five favorite lures and here they are: The Wasp (gold or silver); The Mealie Worm (gold or silver); The Twin Minnow (with gold and silver blade on the spinner); The Black Widow Spider (all black/red fluorescent bead) and The Butter Worm"
US Army vet Ronnie Gotzon (r) with wife Joanne and daughters Jenn and Michelle

.
Associated Websites
:
Fishers of Men Ministry:

www.

fomntt.com