CLICK HERE TO WATCH MOST OF PLUMBLINE TV SHOWS
ON YOUTUBE FROM PROGRAMS 1-96
CLICK HERE TO "LIKE" FACEBOOK PAGE
PLUMBLINE IS NOW SEEN IN MANY COUNTRIES
AROUND THE WORLD
ON
THE FREE UNSHACKLED ROKU TV NETWORK!
Dr. Tim Henderson CEO (and former CEO 1800Flowers NYC)
TESTIMONIAL FROM PLUMBLINE VIEWERS:
Dear Brother. HaShem be Praised! Nigel from Luton, England wrote: "I can't seem to get enough Plumbline. I watch and...


Posted by Tim Henderson on Thursday, July 16, 2015
March 2017 Testimonials from UNSHACKLED TV:
NOVEMBER 2017 TESTIMONIALS: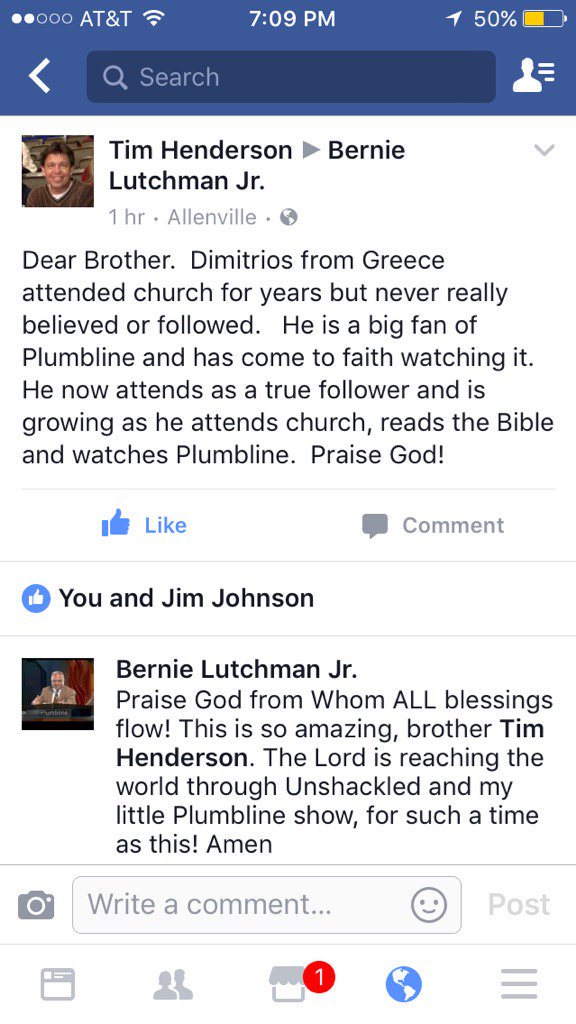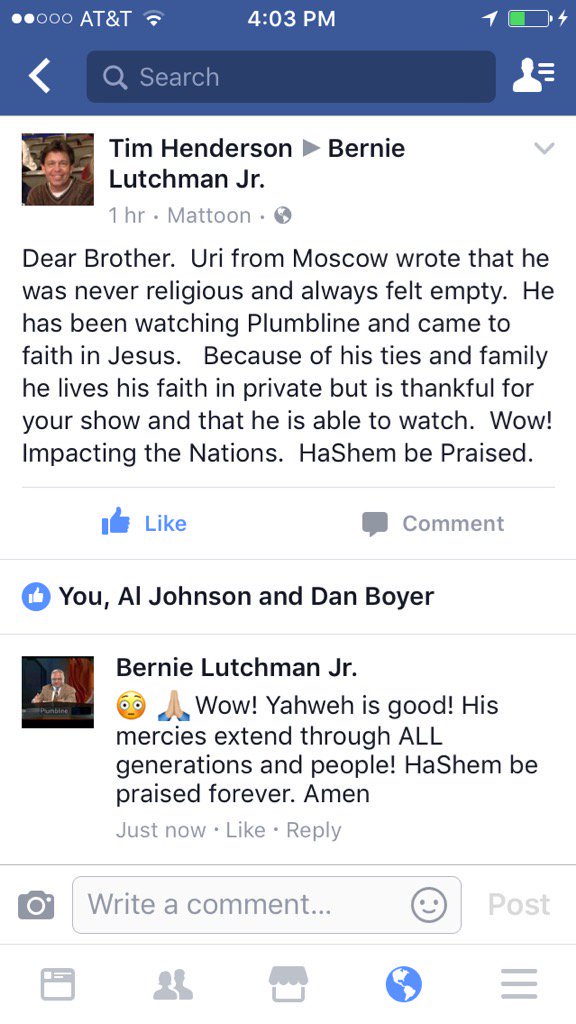 **SPECIAL TEACHING
ON RETURN OF CHRIST HERE**
END TIMES TEACHING (2 PART SHOW)
EACH DAY IS ANOTHER DAY CLOSER
TO THE SECOND COMING OF CHRIST
BUT WHAT WILL REALLY HAPPEN AT THAT POINT?
PART 2 - THE WHITE HORSE COMES OUT THE SKY & ALL HEAVEN BREAKS LOOSE
"The Spirit of the Lord

God

is

upon Me,
Because the

Lord

has anointed Me
To preach good tidings to the poor;
He has sent Me to heal the brokenhearted,
To proclaim liberty to the captives,
And the opening of the prison to

those who are

bound;
To proclaim the acceptable year of the
Lord
,
(emphasis mine)
And the day of vengeance of our God.
...(
Isaiah 61:1-2b)
PART 2
- THE WHITE HORSE COMES OUT THE SKY
& ALL HEAVEN BREAKS LOOSE
PART 1
- THE LONGEST COMMA FROM ISAIAH 61:2b
THE FOLLOWING IS A SERIES OF 12 PROGRAMS ON THE ENTIRE BOOKS OF 1 AND 2 PETER
CALLED
"KEYS TO GODLY LIVING"
PART 1: PETER THE ROCK
PART 2: THE HOPE OF ETERNAL LIFE (1 Peter 1:3-12)
PART 3: CALL TO RIGHTEOUS LIVING (1 Peter 1:13-25)
PART 4: A LIVING STONE (1 Peter 2:1-12)
PART 5: UNDER AUTHORITY (1 Peter 2:13 to 3:1-12)
PART 6: SUFFERING AND PERSECUTION (1 Peter 3:13-22)
PART 7: LIVING FOR GOD (1 Peter 4:1-19)
PART 8: LIVING AS A PEOPLE OF GOD (1 Peter 5:1-10)
PART 9: MATURE IN THE FAITH (2 Peter 1:3-11)
PART 10: OBEY THE WORD (2 Peter 1:12-21)
PART 11: ON CONSTANT ALERT (2 Peter 2:1-22)
PART 12: JUDGMENT DAY COMING! (2 Peter 3:1-16)
THE BOOK OF JAMES VIDEO TEACHING
(half-brother of Jesus Christ and head of the Jerusalem Church)
James 1:2-18 "Brotherly Advice"
James 1:19-27 "Don't Just Know - DO:

James 2:1-13 "Be Fair and Balanced"
James 2:14-26 "The Fruit of Faith"
James 3:1-12 "The Lying Tongue"
+++
YOU WOULD BE SURPRISED ABOUT WHAT SUPER BOWL CHAMP QB TOM BRADY SAYS ABOUT SUCCESS AND SATISFACTION IN THIS LIFE
HOW ABOUT QUEEN VICTORIA? HOW DID SHE FIND PEACE IN HER SOUL?
WATCH THIS:
THE MODERN LAODECIAN CHURCH
MY SERIES ON THE TEN COMMANDMENTS!
33 Teach me, O Lord, the way of your statutes;
and I will keep it to the end.
34 Give me understanding, that I may keep your law
and observe it with my whole heart.
35 Lead me in the path of your commandments,
for I delight in it.
36 Incline my heart to your testimonies,
and not to selfish gain!
37 Turn my eyes from looking at worthless things;
and give me life in your ways.
(Psalm 119:33-37, ESV)
COMMANDMENT #1
You shall have no other gods before me.




COMMANDMENT #2
You shall not make for yourself a carved image, or any likeness of anything that is in heaven above, or that is in the earth beneath, or that is in the water under the earth. You shall not bow down to them or serve them, for I the Lord your God am a jealous God, visiting the iniquity of the fathers on the children to the third and the fourth generation of those who hate me, but showing steadfast love to thousands of those who love me and keep my commandments.
COMMANDMENT #3
You shall not take the name of the Lord your God in vain, for the Lord will not hold him guiltless who takes his name in vain.
COMMANDMENT #4
Remember the Sabbath day, to keep it holy. Six days you shall labor, and do all your work, but the seventh day is a Sabbath to the Lord your God.
COMMANDMENT #5
Honor your father and your mother, that your days may be long in the land that the Lord your God is giving you
COMMANDMENT #6
You shall not murder.
COMMANDMENT #7
You shall not commit adultery.
COMMANDMENT #8
You shall not steal.
COMMANDMENT #9
You shall not bear false witness against your neighbor.
COMMANDMENT #10
"You shall not covet your neighbor's house; you shall not covet your neighbor's wife, or his male servant, or his female servant, or his ox, or his donkey, or anything that is your neighbor's"
MAN HAS ALWAYS CONSIDERED HIMSELF
TO BE SMARTER THAN GOD!
WISDOM OF GOD VS WISDOM OF MAN:
PEOPLE SAY YOU CAN TRUST THE PROMISE OF GOD
WHY IS THAT?
THIS WILL CONFIRM WHAT WE KNOW:
GENESIS 5 SAYS "ENOCH WALKED WITH GOD"
HOW DO WE WALK WITH GOD TODAY?
LEARN HOW HERE:
HOW DID WE GET THE BIBLE WE NOW READ?
CHECK OUT THIS PLUMBLINE PROGRAM
"ORIGINS OF THE BIBLE"
THE FIRST EPISODE OF PLUMBLINE THE TV SHOW (2008)
PLUMBLINE IS BASED ON THE BOOK OF AMOS 7:7
"CREATION"

>